Name: Mohan Lal

Father: Viswanathan Nair

Mother: Santhakumari

Brother: Pyare Lal

Wife: Suchitra

Children: Pranav, Vismaya

Address: 11-A Manohan Ave.
Casa Major Road,
Igmore, Chennai- 600008
Mohanlal was born on May 21, 1960. Father Name is Viswanathan Nair and Mother is Santhakumari. Starting his career with villain roles has become an unavoidable personality of Malayalam Cinema.
He is also rated one of the most talented actors in India. His range is enviable, his flair for comedy is impeccable and his dialogue delivery effortless. There are not many actors who can portray both comic and serious roles with the same ease.And that has reached upto Padmashri one of the nations highest civilian honour. He also won the National award for the best actor twice for films 'Bharathm' and 'Vanaprastham' ,'Kalapani' another famous film directed by 'priyadarshan' and produced by him bagged five national awards and seven state awards. He has reached this position with his hard work and devotion to the industry. As far as his acting is concerned,it's been acknowledged that he's is the most spontaneous actor on the scene today.
He is also in the Business of Pranamam a Film Distribution company, Pranavam Arts a Film Production Company and Partner of Royal Marian Exports.
Mohanlal plays father to Innoncent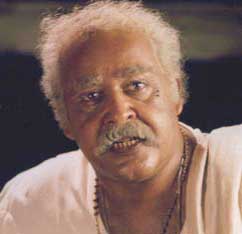 Mohanlal will play father to Innoncent the middle aged comedian in Udayon. The film directed by Bhadran has Nana Patekar in the role of Perumal, a village headman in areas like Theni and Kambam. In the film, the fight is between Mohanlal who is like God to the villagers while Nana is the self styled judge. Bhadran had plans to remake his Malayalam film Aiyyar the Great with Nana Patekar in Hindi but somehow or the other, the project got shelved. Patekar will join the sets of Udayon this week. In Udayon, Mohanlal plays a dual role of father and son and Kerala congress politics, Ganja cultivations, and liquor barons.
Mohanal plays the dual role of father and son. Soornad the father charachter's has three sons. The eldest is Innoncent and younger to him is Mohanlal coming in the son's role.
Mohanlal Websites
Malayalam Hotnews - Mohanlal, Meena - Mohanlal India,South India,South India Entertainment,Indian movies, Indian Cinema, South Indian Movies, malayalam, malayalam Cinema, malayalam Movies, malayalam music, malayalam songs, malayalam actress, malayalam actors, Y2K2 for the Malayalam Industry Small Talk with Mohanlal! Mammooty's Graph
The famous trio to unite again
Lovers of Mollywood have a reason to celebrate.If reports from the film industry are to be believed, Mohanal and Sreenivasan along with Maniyanpillai Raju are back together after a long gap of about twenty years.As everyone knows that the joining of these three actors will surely make a big hit.
The last time that they had united was in 1989 for the blockbuster film 'Vellanakalude Naadu'.Sreeni has finished the one line of the new film for which the trio are coming together. Titled 'Oru Naal Varum', Raju would produce this film.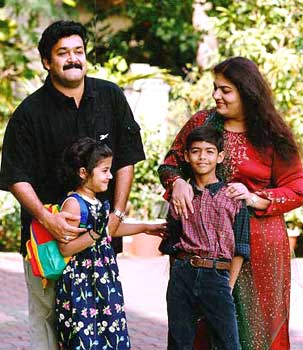 Angel John - Jayasurya directed Santhanoo Bhagyaraj's debut film in Malayalam, along with Mohanlal as Angel John, is a treat for the family audiences.
Mohanlal to enact characters from Malayalam literature - Malayalam film actor Mohanlal flanked by Mr Jacob Mathew, Executive Editor, Malayala Manorama enact characters from Malayalam literature," said Mr Mohanlal at a press conference
Mohanlal on a spiritual trip! - Covering all aspects of Kerala / Malayalam Film scene - Actors and Actress Photo Galleries, Wallpapers, news, and much more to the huge success of Cheran's Autograph. Her Malayalam film 4 The People completed its silver jubilee Laya opposite Mohanlal!: Mohanlal's heroine in Bhadran's Udayon is the Telugu
Destiny's superstar - An interview with Mohanlal - An online Malayalam Cinema Magazine Destiny's superstar - An interview with Mohanlal. Mohanlal, one of the most versatile actors of all times, begins films in Bollywood? Mohanlal: It is a Malayalam film. We dubbed
Latest Malluwood News , Get Malayalam Cinema News @ your fingertip - Malluwood snippets - A Carnatic music based subject. Whenever Mohanlal has acted in films based on classical music, they have been been dubbed into Malayalam as Hey Taxi. Mohanlal plays a guest role
malayalam Cinema News, Latest Events, Photo Gallery, Actors, Actress, Cinema Entertainment, Live Wire @malayalam.... - Check it out. Reviews. Interviews. Archives. Fun stuff. Wallpapers. Greetings. Cool stuff. Chat. Contest. Send Gifts Worldwide. Rate. Connect. Kaboom
Mohanlal, Padma Shri Bharat Mohanlal - Malayalam Super Star - Website on Malayalam Super Star Bharath Mohanlal. Includes Photo Gallery, Movie Clip Downloads, Interviews
Rent Mohanlal DVDs at Netflix - Rent all the DVDs you want for $17.99/month. Over 40,000 titles to choose from including a wide selection of Mohanlal DVDs. No late fees and free shipping.
Malayalam super star Mohanlal stepping in to Kannada filmdom - Yesterday the director of the film love, Rajendra Singh Babu gave a surprise by calling a press meet at hotel Lee Maridian. Maleyalm actor Mohanlal who took part in the press meet was the center of attraction. There Babu disclosed the secret that... Public voice: Malayalam super star now in Kannada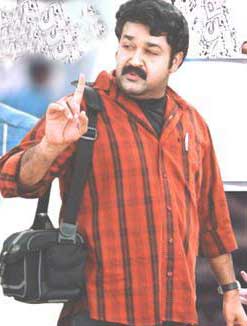 25 years, 25 landmarks - Home > Movies > Features. 25 years, 25 landmarks. Shobha Warrier | September 03, 2003 13:19 IST. 1978. September 4. Mohanlal the actor is born. September 4. Mohanlal the actor is born. Though he acted in school and college plays, his the first time, Mohanlal acts in a language other than Malayalam. It takes a
NRILinks: Malayalam / Mollywood Movies, Gossip & News Updates - NRILinks : News Updates including English Movie News, Hindi Movie News, Telugu Movie News, Tamil Movie News, Kannada Movie News, Malayalam Movie News, Hindlish Movie News Movie News: Malayalam. Menaka on small screen! Mohanlal or Dileep: The box-office king?
malayalam.cinesouth.com - Home for the malayalam covering includes malayalam movie /cinema news, previews, reviews, - Another star show for Gulf countries. Malayalam heroines take over Tamil industry be a hit? Should Mohanlal stick to his family roles? Malayalam Discussion Forum
Indiainfo: Malayalam: Top Story - A complete guide to Indian movies The two superstars of Kerala, Mamooty and Mohanlal, recently created a stir in the film and that is true, Mohanlal should take a lesson from veteran Malayalam actors who have
Welcome to SIFY Movies - Sify Malayalam Actress, Joemol sues father. Popular Malayalam film actress, Joemol today accused her father of having Mohanlal teams with Sania Mirza! The superstar of Malayalam will be joining
Indian Movie Mart - Original DVDs CDs at reasonable prices. - Indian Movie Mart - Wholesale hub for All Indian regional movie media Hindi, Telugu, Tamil, Bengali, Punjabi, Gujarati, Malayalam. We carry brand new original DVDs, CDs, VHS, Posters, books etc. Gujarati DVDS. Punjabi DVDS. Malayalam DVDS. DVDS. CDS. VHS Sasi Mammootty, Mohanlal, Seema, Capt. Raju, Lalu Alex, Meena, Sukumari.