Chandrolsavam
Cast : Mohanlal, Meena, Jagadeesh, Cochin Haneefa
Director : Ranjith
Music: Vidyasagar
Producer: Santhosh Damodar.
In "Chandrolsavam", director Ranjit has opted for a softer, philosophical approach of storytelling. His trademark is there but it is very subdued.
One of the most respected directors in Malayalam cinema today, Ranjit, credited with creating a larger-than-life image for Mohanlal, has time and again proved that he can pull it off if he teams up with the megastar - as a writer or a writer-director - despite pessimism from his detractors.
But lesser writers and directors seem to have now milked his success-mantra dry.
There are sparks that would make the viewer nostalgic and desiring more of the same. But that is hard to come by.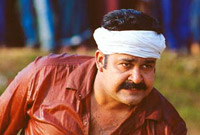 Instead, you get a protagonist - a failed lover with a nomadic nature, who does not mind wallowing in his misery.
The story begins when Srihari (Mohanlal) returns to his native place from a self-imposed, six-year exile in Paris where he has also served a one-year jail term for a crime he did not commit.
He has returned to settle old scores. We bolt up as our expectations soar - but we have to wait for that till the interval.
The storyline is complicated. It all starts from Srihari's childhood - when two of his friends Balachandran and Ramanunni lust for the same girl Indu (Meena).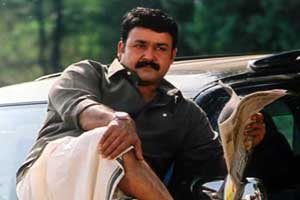 Indu loves Srihari but Balachandran deviously marries her. He nearly gets killed on the wedding day by Ramanunni's man but the blame falls on Srihari.
Srihari's return is not to wreak revenge. It is to attain as much joy as possible in his last days, as he is terminally ill.
There are missing links in the story. Mohanlal has experimented with his looks, but his performance seems to be held back.
Meena, on the other hand, is surprising. Her character is not in the usual glam doll mould, which is refreshing. Of the supporting cast, the much-hyped cameos by Kushboo and Dakshinamoorthy look apt.
Others including Jagadeesh and Cochin Haneefa look predictable.
The audience expects fire and brimstone from a Ranjith movie. But they are in for a rude shock.
It is not that Ranjith has not made any soft films. There is "Maya Mayooram", which he had scripted for Sibi Malayil in the late 80s.
In recent times, there were "Nandanam" and "Mizhirandilum" meeting with varying degrees of success.