Devadootan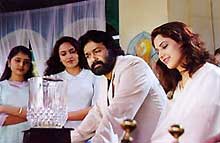 Directed :Sibi Malayil
Produced : Siyad Kokker
Music : Vidyasagar (State Award 2000)
Lyrics : Kaithapuram
Songs sung : Yesudas, MG Sreekumar, Jayachandran, Chithra, Sujatha, Preetha
Also starring: Janardanan, Jayaprada, Jagadeesh, Sharath etc..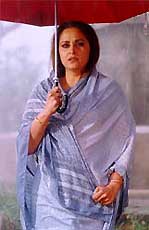 Sibi Malayil's Devadootan, with Mohanlal in the lead, is an attempt to cast Mohanlal in a role that is totally different from the image that he has attained of late. Devadootan, produced by Siyad Kokker under the banner of Kokker's Films and scripted by Reghunath Paleri tells the story of Vishal Krishnamoorthy, a musician who has attained international fame on account of his symphony 'Rhythm of Love'.And from the point where Vishal attains international repute, the director takes us back on a journey into his past, when certain unseen forces make him solve certain mysteries surrounding Angelina Ignatious, the lady who runs the college from where Vishal was once expelled. Angelina was once in love with Maheshwar, a blind musician, who disappeared after saying that he would return with his mother's consent for their marriage. But he never came back and Angelina went on waiting for him.And it is in this context that Vishal, who had made a rather unsuccessful musical album or two, is brought in to do a musical play for the students of the college. Mohanlal
Two students, especially Sneha and Manoj are doing the lead roles in the play, which rather coincidentally, tells the story of Angelina and Maheshwar. Sneha, who is an admirer of Vishal's music, becomes intimate with him. In the meantime, Vishal and Sneha are taken into a weird world of spirits, weird occurrences etc and in the end everything is resolved, with Vishal finding a clue to Maheshwar's disappearance.Mohanlal is at ease, as Vishal while Jayaprada puts in a good performance as Angelina and newcomer Vijayalekshmi looks fresh as Sneha. Vineethkumar as Maheshwar and Sharath as Manoj have also put in good performances. Murali, Jagadeesh, Jagathy, etc too have put in good performances. Vidyasaagar has set to tune lyrics by Kaithapram. Santhosh Thundiyil, who has done the cinematography, has created some really good frames focusing his camera on the beautiful landscape of Ooty. The editing is by L.Bhoominathan.