Kaakkakuyil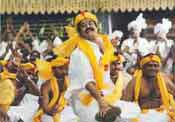 Directon,Story,Screenplay: Priyadarshan
Music: Deepan Chatterji
Background Music : SP Venkitesh
Lyrics : Girish Putenchery
Cinematography: S. Kumar
Editing : N. Gobalakrishnan
Starring: Mohanlal, Mukesh, Nedumudi Venu, Jagathi, Jagadeesh, Innocent, Cochin Hanifa, Augestine, Arzoo, Swetha Menon, Ramya Krishnan, Kaviyoor Ponnamma, Sunil Shetty, etc...
Audio Label: East Coast Audios
Kaakkakuyil is a tale of two friends Sivaraman and Govindankutty, who reach Mumbai with the dream of acquiring a visa to the gulf. But fate has something else in store for them. Financial problems make Govindankutty think a bit crooked and he makes Sivaraman impersonate as Kunjunni, the grandson of an old, blind couple-the 'Thampuran' and his wife Sethu Lekshmi Bhai 'Thampuratty'.
Things again take a new turn when Radhika, a fictitious character whom the fake 'Kunjunni' had created in order to escape marriage, pops up from nowhere and foils all their attempts to scoot with the old couple's money.
Added to this is the bank-robbery that they had partaken in earlier along with Advocate Thomas Mathew, his stammering brother played by Jagadeesh and his aide Aleena. Thomas Mathew gets caught by the Police and reaches the conclusion that Sivaraman and Govindankutty had betrayed him.
In the meantime Aleena plays a double game, trying to wrest the loot. All this, and old Pothuvaal's plans to bring to light the impersonation and Sivaraman's feeling of guilt etc lead to the building up of an exciting climax.

Both Mohanlal and Mukesh are in their comic best as Sivaraman and Govindankutty respectively. Newcomer Arzoo as Radhika has a fresh appeal about her. Suchetha as Aleena does a good work. Jagathy Sreekumar as Advocate Nambeeshan, all have done their best to contribute to the making of this full-length entertainer.
Nedumudi Venu is his usual self as the blind 'Thampuran' while Kaviyoor Ponnamma fits in perfectly well as Sethu Lekshmi Bhai. Jagadeesh has done a superb work of the character of the stammering younger brother of Thomas Mathew.
The main attraction of Kaakkakuyil is that we do not find the heros and heroines romancing. Another attraction of the film is the presence of model and actress Shwetha Menon, Ramya Krishnan and Sunil Shetty in guest roles in different song sequences.
S.Kumar's cinematography and Sabu Cyril's artwork suits and enhances the comic mood of the film. Dipen Chatterjee's music to the accompaniment of lyrics by Gireesh Puthencherry is much in keeping with the tempo of the film. Choreography by Brinda, Prasanna and Kala too are highlights of the film, the story and script of which has been done by Priyadarshan himself.