Natturajavu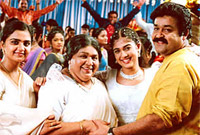 Cast: Mohanlal, Meena, Nayanthara, Kalabhvan Mani, Ranjit, Suja Karthika, Kaviyoor Ponnamma, KPAC Lalitha
Director: Shaji Kailas
Lyrics: Gireesh Puthencheery
Music: M.Jayachandran
Pulikattil Charlie played by Mohanlal is a tough but easy going guy who owns a quarry and an estate. His late father Pulikattil Mathan (Ramraj) has left behind a lot of problems for Charlie. Mathan had created quite a few enemies who are trying to get even with Charlie now.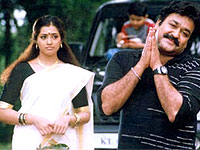 Mathan was a terrible person and practically no one liked him and no one had anything good to say about him even after his death. Charlie is trying to live a low profile life but is forced to sort out the mess created by his late father. He is living with his mother( Kaviyoor Ponnamma), grandmother (KPAC Lalitha) and a younger sister Katrina (Nayanthara) who is an illegitimate child of Mathan.
Charlli had another brother Samuel (Sarath) who committed suicide a while ago due to Mathan's harassment. Samuel's wife Rosy (Suja Karthka) and her child also live with them.
Karnan ( Ranjith) is one of the powerful enemies of Mathan. Karnan had killed Mathan and he is serving time in jail and hopes to be free some day. In order to avoid future problems from Karnan, Charlie had married Karnan's beautiful sister Maya (Meena) but Karnan is not happy about this alliance either. Karnan is determined to take revenge on Mathan's family and Charlie is a part of it. But Charlie handles these situations very boldly.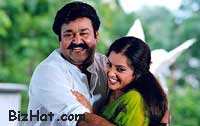 Director Shaji Kailas has succeeded in spinning a story about an evil man and his good natured son. Story is very realistic especially in Kerala life, where everybody know some 'Evil Dad' who had left behind some enemy for a 'Good Son'. Mohanlal, as usual, presents a very good performance as Charlie. But he's been typecast in the same role for umpteen number of times, there is no novelty to the role. One wishes that he would do some down to earth, humourous character roles he used to excel in. Nayanthara and Meena does justice to their roles. Rest of the cast are adequate. Cinematography and Music is mediocre but as a whole the movie is entertaining.