Praja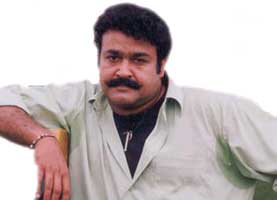 Direction : Joshi
Script : Renji Panikker
Cast : Mohanlal, Manoj K Jayan, Cochin Haneef, Babu Namboothiri, Biju Menon, N F Varghese, Vijayaraghavan, Anupamkher, Aiswarya and Shammy Thilakan.
There is a widely held belief that if Mohanlal appears in a film with his moustache twirled up, it is bound to be a hit. After a string of spectacular blockbusters which fall under this category, 'Praja', the latest offering by the hotshot director Joshi seems to be flirting with this uncanny belief. The narration of this film is in the much repeated mould of political action flicks like The King, Commissioner and Pathram. The hero struts in front of the villain and mouths platitudes about social inequities and the unholy nexus between politicos, cops and the underworld.
In this season of absolute trash movies, when a seasoned director like Joshi decides to make a film, you are bound to expect some kind of fine treatment, but he truly disappoints by opting for the trodden track. Director lets down the potentially exciting thriller with low key thrills, ludicrous fights and loopholes galore. The film has no plot. The story is wafer thin. The musical score is uninspiring and last acting is painfully inadequate. This much hyped and eagerly awaited film suffers from poor execution coupled with low key thrills and poor performances.
The central theme of this film revolves around the nexus between underworld and the entire political system in our country. Best known for his political satires, Renji Panikker could have come out with a better storyline than this much repeated one. 'Praja' tells the tale of Zakir Ali Hussain, an underworld don, who is on a self appointed apolcalyptic mission to cleanse the world. Still on the beaten track, Lal is getting stale in this role. His recent films predominantly caters solely to the tastes of his ardent fans. While 'Praja' has its share of scenes designed to warm the hearts of Lal fans, it does not offer solid enterta nt for the average filmgoers who crave for a better deal.
Zakir Ali Hussain returns to Cochin after snapping all ties with the world of stealth, intrigue and injustice. Ramavarma Thirumulpad (Babu Namboothiri) his aide, persuades him to start a new life. But a radical transformation like this wouldn't happen so easily because his allies and foes are not ready to let him walk out just like that. Powerful people from his past launch a hunt for him. Bappu (Anupamkher) Zakir's godfather gets injured in a firing. But he miraculously escapes the bid on his life. Enraged by this, Zakir leaves for Mumbai, takes law into his own hands and finshes off those behind the muder attempt. Now the stage is set for dialogue crossfire, dare devil stunts and the final annihilation.The movie goes along expected lines.
After the stupendous success of Narasimham, Aiswarya is once again teamed up with Mohanlal. She plays the IPS officer Maya Mary Kurien, a duty bound cop. The double entendre dialogues during their initial meeting at the check post are vulgar and the song sequences are abrupt and unnecessary. Aiswarya seems to be a miscast though that could be because of the poor way the character has been shaped. Need for suspension of disbelief is necessary to watch the climax scene in which all villains are burnt alive. Here, logic takes a crumbling fall. There are lots of long winded dialogues delivered by Mohanlal about patriotism and politics that proves this kind of role is not a cakewalk for him.
Length of the movie is too long and tight editing is needed to trim it down. Song sequences will definitely have an adverse impact since both the tunes and dances test your patience. 'Praja' never reaches the lofty heights of earlier films by Joshi and Renji Panikker. The same fate of 'Dubai' awaits this film.