Ravanaprabhu.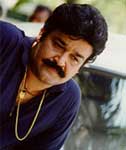 The character Mangalashery Neelakantan- the lovable feudal rascal, of the film Devasuram is one of the most imitated characters in the Malayalam silver screen. Now the legacy of Mangalashery Neelakantan continues - through Mangalashery Neelakantan's son Mangalashery Karthikeyan in Ravanaprabhu.
Ravanaprabhu tells the story of the legacy of Neelakantan through Karthikeyan and how the rivalry between Neelakantan and his archrival Mundakkal Sekharan passes on to the next generation.
Devasuram was a classic crowd puller and Ravanaprabhu is an entertaining crowd pleaser. The feudal touch is lost as generation changes. Neelakantan was a feudal lord but his son Karthikeyan is presented as superhero.
Ravanaprabhu is Mohanlal, Mohanlal and Mohanlal. Mohanlal one of the best artists in India portrays two generations in Ravanaprabhu - a mellowed Mangalashery Neelakantan and firebrand Mangalashery Karthikeyan. As far as satisfaction of an artist is concerned, the character of Mangalashery Neelakantan must have provided him just that. He had once again done full justice to a character that was immortalised by him years ago. As far as the fans go, Karthikeyan is tailor made for them. With electrifying screen presence and mannerisms Mohanlal once again proves that he is the ultimate crowd pleaser.
Other characters in the films are, Neelakantan's old sidekicks- Varriyar (Innocent), Kurupu (Sree Raman), Hydrose (Augustin), and Neelakantan's archrival Mundakkal Sekharan (Napoleon) - all from the Devasuram clan. As for new additions- Karthikeyan has got Shakthi Vel Kowndar (Jagathy Sreekumar), Kowndar's loyalist (Jagadheesh), Unni (Sai Kumar) and Shivadas (Manoj.K.Jayan) and Mundakkal Rajeendran (Vijayaraghavan), Puruashu (Ratheesh), SP Sreenivasan (Siddique) are his new rivals. Unlike Devasuram, the individual moments for the characters played by these actors are less except for Innocent who reminds us once again how lovable Varriyar was, and Siddique who plays the jealous fiancé of the heroine.
About the women in the film, Revathi as Banumathi excels in her short yet powerful presence. Vasundhara Das as Janaki, daughter of Mundakkal Sekharan has nothing much to do except to look good.
Ranjith as a director is promising, but his real strength is in the screenplay that he writes keeping the public pulse in mind. Full marks for him for keeping the classic touch of Neelakantan intact.
The second act of the feudal lord's story may not be a classic(except for Neelakantan and Banumathi) as it's first act. But, then again Ravana is considered a classic character by a very few. Ravanaprabhu is a entertaining crowd puller, nothing less and nothing more.