Thandavam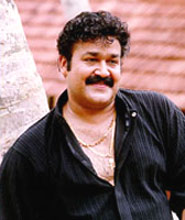 Language: MALAYALAM
Director: Shaji Kailas
Cast: Mohanlal,Kiran,Nedumudi Venu,Sai Kumar
Music: M.G Sreekumar
A mere typecast of the character in films like Aram Thampuran and Narasimham, KaashiNaadhan in Thandavam is not the Onam Sadya the people of kerala wanted. Thandavam directed by Shaji Kailas and written by Suresh Babu depicts Mohanlal in another role with inhumane powers.
As usually seen in recent Shaji Kailas movies, the hero's name is one of the names of a Hindu God. In this case, it's "Kaasi naadhan" a name of Lord Siva. In every frame of the movie, the director has tried to portray the inhumane capabilties of the hero.The movie starts with showing the love and bond between the brothers Kashi Nathan and SwamiNathan(Nedumudi Venu) and it takes a turn when Saminathan is killed in an accident. Kashinathan realises Dasappa Kaundar(Manoj K Jayan) and minister shankar Das(Sai Kumar) are behind Swaminathan's murder. As usual mohanlal destroys all the evil forces and live happily in Mithilapuri with the heroine.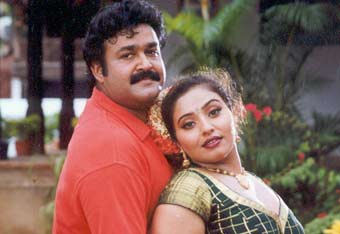 According to director Shaji Kailas, ''The film has all the ingredients essential for the superstar's fans to sit back and enjoy. The film is said to have a good emotional storyline about the love of two brothers (Mohanlal and Nedumudi Venu), rollicking comedy (Jagathy and Jagadhish), an item number (''Umma...Umma...'' by glamour girls Mumtaz and Anu shree), lucky locations of Malayalam films (Pollachi) and a great punch line one-liner by Mohanlal_ ''Entha Strong Aano?''(Is it strong enough?). But the sad thing is all these are made in an indigestable manner to the Kerala viewers. There are far too many sexy scenes that are nauseating and smutty dialogues that would put a Shakeela film to shame. So the lady audience are turning away from the cinema halls.
Shaji and team has tried all possible ways to make the movie a waste. The story could have been told in a much better way. M.G Sreekumar's songs are just ok. After taking Suresh Gopi through a series of similar flops, Shaji Kailas is doing the same thing to the superhero's image. Thandaavam is definitely going to be a forgetable movie in Mohanlal's career. Mohanlal certainly has got a lot of repairing to do in the coming movies.