Thanmathra
Cast: Mohanlal, Meera Vasudev, Arjun, Niranjana, Nedumudi Venu, Jegathi Shree kumar, Innocent
Director: Blessy
Music: Mohan Sithara
Producer: Century Films
Director Blessy of Kazcha fame, is back with yet another film with a sensitive theme different from the commercial films turning out year after year in the industry. The movie is inspired by a short story ' Orma' written by late Padmarajan.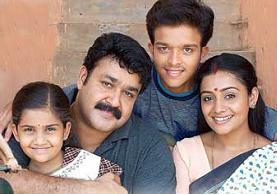 Mohanlal plays Rameshan Nair an honest, hardworking man who works in the Secretariat. His family is an ideal one with a loving wife Lekha ( Meera Vasudev), a son Manu (Arjun) and a daughter. Rameshan cares very much for his family. He has big dreams for his son and wants him to be an IAS officer. He guides him all the way and Manu on his part tops in whatever he does and is an all rounder in school. Ramesh's co-worker cum friend Joseph (Jagathy) is a pillar of support for him.
As their life goes on smoothly, Rameshan slowly begin to notice that he seems to forget things. He consults a doctor who dismisses it as stress. The situation gets out of hand soon and they discover that he suffers from Alzeimer's. Ramesh takes voluntary retirement and they move to his ancestral home. Their otherwise solid life is shattered as slowly Rameshan changes, completely loosing his memory and becoming dependent on others. The rest of the story how the family - Lekha, Manu and Rameshan's father (Nedumudi Venu) deal with the critical situation...

It is a beautifully made film sure to touch the hearts of the people who see it. There is no entertainment value as such but it portrays a real life crisis faced by a close knit family really well. Rameshan's relationship with his son as well as his father is really touching. The movie drags a bit in the first half but makes up in the second half. Sethu Sriram's cinematography, Kaithapuram's lyrics and Mohan Sitara's music gels well with the temper of the movie.
The director has drawn wonderful performances out of all the characters. Mohanlal after a long time is in his elements. He lives the character Rameshan and proves that given a chance he could do wonders with his roles. An excellent performance surely one of his best till date. Meera Vasudev as Lekha who stands by her husband throughout the ordeal and Arjun as Rameshan's son gives a commendable performance. The close relationship between the family members is enacted very well. Nedumuni Venu and Jagathy are first rate as usual.