Udayananu Tharam

Cast: Mohanlal, Srinivasan, Meena, Mukesh,Jagathy
Director: Roshan Andrew
Music: Deepak Dev
Screenplay: Sreenivasan
Udayananu Tharam by assistant director turned debutant director Roshan Andrew, takes a satirical look at the film industry at large. The solid screenplay is by none other than the talented Sreenivasan who also plays a major role as a film star in the film.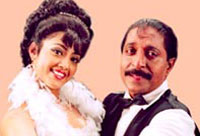 The story revolves around an aspiring scriptwriter cum assistant director Udayabhanu (Mohanlal) who hopes to make it big in the film industry. Hardworking, honest and good at heart he completes the script of a movie which he plans to make a hit to fulfill his lifetime dream. Baby Kuttan (Mukesh), a friend cum famous producer agrees to produce Udayan's film.
Rajappan Thengumoodu ( Sreenivasan), a junior artist comes to see Udayan and requests to stay with him for a few days. He was thrown out of his previous place because he couldn't pay for his accommodation. Udayan accommodates him as he didn't have the heart to say no. Once Rajappan knew that Udayan is on to his debut film, he wants to be his hero. But Udayan refuses. The scheming Rajappan steals Udayan's script and approaches a top producer with it and insists on becoming the hero.

The film becomes a super hit and Rajappan becomes famous. When Udayan comes to know about it he is shattered but couldn't do anything much about it. Rajappan changes his name to Saroj Kumar and gets himself trained in acting and dancing by Pachalam Bhasi (Jagathy Sreekumar).
Meanwhile Madhumati (Meena), a lead actress who was groomed by Udayan walks out of her house when she can't stand the suffering from her wicked brother and father into the comforting hands of Udayan who is much older to her. Udayan has to marry her to settle all the rumours but their relationship doesn't last long and Udayan becomes totally depressed.
But again Baby Kuttan comes to his rescue and encourages Udayan to come up with another script which he promises to produce. But he wants Saroj Kumar to be the hero. Although Udayan disagrees at first, he doesn't have much choice. The movie starts off but the pompous Rajappan makes life miserable for Udayan whenever possible and walks out of the film when it is almost complete. The rest of the story deals with how Udayan tries to get his life back, one has to watch the film to see whether he succeeds.

Sreenivasan writes about real life incidents that happen in the film industry and presents them in a humorous manner. He makes a dig at everyone, not even leaving the superstars. The director has handled the script well. But somewhere something is amiss in the narrative especially in the first half. Music by Deepak Dev gels well with the theme of the film.
Mohanlal as Udayan presents a down to earth remarkable performance unlike the larger than life characters he plays these days. But it is Sreenivasan who steals the show as the dimwit obnoxious superstar Saroj Kumar. Meena is commendable as starlet Madhumati. The rest of the cast including Mukesh, Jagathy, Salim Kumar, Bhavana gives adequate support.
Overall the movie would be a super hit among the general masses.. The final verdict is - a definite entertainer.